');var r="//cdnjs.cloudflare.com/ajax/libs/Swiper/3.4.2/js/swiper.min.js";location.href.substring(0,4)!="http"&&(r="https:"+r);t.getScript(r,function(){n.resolve(i)})}function s(){n.jQueryRomw.each(i,function(i,f){var s=n.jQueryRomw.Deferred(),h="https://reviewsonmywebsite.com/embed/";typeof romwcr_url!="undefined"&&(h=romwcr_url);t.get(h+f.token+"?v=2",function(n){u.indexOf(n.type)>-1&&!e?(e=!0,o(s,{data:n.html,container:f.container,swiper:!0,type:n.type})):s.resolve({data:n.html,container:f.container,swiper:!1,type:n.type})});r.push(s)})}var i,r,e;t("head").append('');i=n.review_token&&n.review_target?[{container:n.review_target,token:n.review_token}]:n.reviewData;i?Object.prototype.toString.call(i)!=="[object Array]"&&(i=[i]):console&&console.warn("Review widget: `reviewData` varible is missing, no widget will be inserted into page");r=[];e=!1;t.when(s()).done(function(){n.jQueryRomw.when.apply(n.jQueryRomw,r).then(function(){var i=arguments;n.jQueryRomw.each(i,function(i,r){r&&(t("#"+r.container).html(r.data),f.indexOf(r.type)>-1&&(t("head").append(''),t.when(t.getScript("https://reviewsonmywebsite.com/js/rocketHelpers.js"),t.getScript("https://reviewsonmywebsite.com/js/rocketScroll.js")).done(function(){new RS.RocketScroll(".multiple");t(n).resize(function(){t(".rocketScroll .scrollbar").remove();new RS.RocketScroll(".multiple")})})))})})})})}var u=[2,5,6],f=[3,6],t;n.jQuery===undefined||n.jQuery.fn.jquery!=="2.2.4"?(t=document.createElement("script"),t.setAttribute("type","text/javascript"),t.setAttribute("src","//cdnjs.cloudflare.com/ajax/libs/jquery/2.2.4/jquery.min.js"),t.readyState?t.onreadystatechange=function(){(this.readyState=="complete"||this.readyState=="loaded")&&i()}:t.onload=i,(document.getElementsByTagName("head")[0]||document.documentElement).appendChild(t)):(n.jQueryRomw=n.jQuery,r())})(window)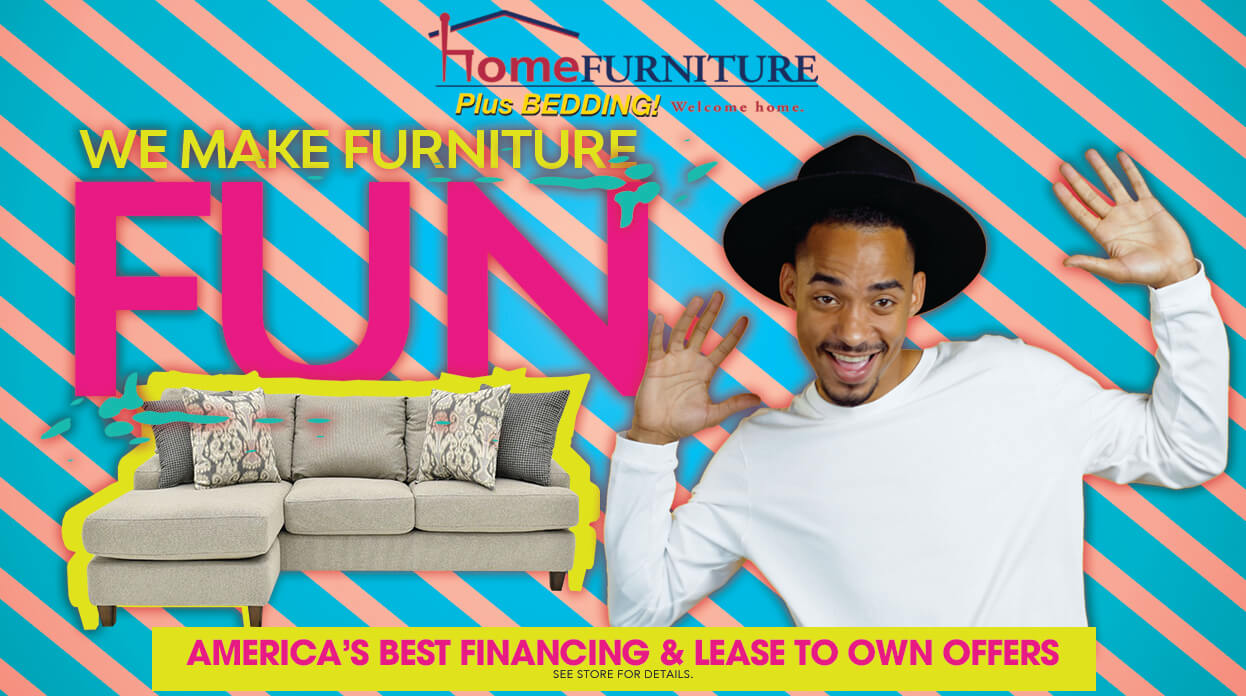 Finding quality furniture is largely a matter of finding a quality store. The best retailers only sell products built to last, which means that you get the most for your money. Home Furniture Plus Bedding has offered the best products since our company's inception in 1945. The proof of such excellence is evident in the pool of positive reviews we have received over the years.
Here at Home Furniture, we understand the value of keeping our inventory fresh. You may want to take a more modern approach to your bedroom while keeping things in the living area traditional. Our growing list of products gives you the chance to find everything you are looking for in one place so that you won't waste time shopping around.
Another characteristic of a quality furniture store is quality brands. Home Furniture Plus Bedding prides itself on only offering quality products from trusted name brands. We don't sell it unless it has a good reputation.
All of our hard work to offer quality furniture, coupled with excellent customer service, is evident in our reviews. Our customers appreciate the passion that we carry, which can be seen on the sales floor and beyond. Read a few testimonials and then come by one of our locations to see why customers think we're so great!