Tempur-Pedic Mattress Center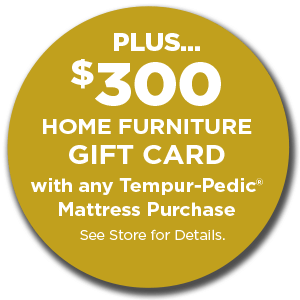 WHY TEMPUR-PEDIC
YOU'LL SLEEP COOLER
Tempur-Pedic® mattresses are designed with cutting-edge cooling materials to create a cooler sleeping environment—so you can get the uninterrupted, restorative rest you need.
Only TEMPUR-breeze® mattresses feature an integrated system of materials that work together from cover to ore to keep you up to 8 degrees cooler* all night long.
Our all-new TEMPUR-Adapt® Series cool-to-touch cover systems are made with premium knit technology for superior cooling comfort – nearly 50% more cool-to-touch than Serta iComfort.
*Based on average heat index of TEMPUR-LUXEbreeze™ compared to TEMPUR-ProAdapt™ models measured over 8-hour period.
YOU'LL SLEEP EASIER
Tempur-Pedic® mattresses evenly absorb the force of your body and its pressure points to reduce tossing and turning—so you can relax more fully into your sleep.
Tempur-Pedic's unique material has a unique viscous response – the more pressure your body exerts, the more adaptive our material gets, alleviating pressure where you need it.
Tempur-Pedic mattresses have up to two times more pressure-relieving power* compared to any other brand. And we continue to innovate. The all-new TEMPUR-APR is the most pressure-relieving material we've ever made.
*TEMPUR-CONTOUR® response to pressure vs. average taken across leading mattress brands over 4 minutes.
YOU'LL SLEEP DEEPER
Tempur-Pedic® mattresses dramatically reduce motion transfer between you and your partner. So you can rest undisturbed - and rejuvenate more deeply.
Tempur-Pedic's unique material absorbs energy and isolates movement in the bed instead of transferring it to your partner.
Tempur-Pedic mattresses have better motion cancellation than other brands, including Sleep Number, Serta iComfort, Beautyrest Black, Casper and Leesa.
YOU'LL GO TO SLEEP FASTER
Tempur-Pedic® mattresses adapt and conform to your body's unique needs throughout the night. So you can fall asleep faster, stay asleep longer—and wake up feeling powerful.
Unlike ordinary memory foam, our material is highly sensitive to temperature, so it constantly adapts to the unique characteristics of your body—and continues to conform while you sleep.
Tempur-Pedic's exclusive toolbox of proprietary materials combined in a variety of ways gives you personalized comfort and support—where you need it, how you need it.